Free iPhone Tab Bar Icon Editor
---
Junior Icon Editor is a free icon editor to make icons for iOS (iPhone, iPad, iPod), Android, Windows and websites.
With Junior Icon Editor you can:
Create tabbar, menu, dialog, toolbar, application icons for iPhone
Create and edit icons in color depths up to 16 million colors
Create and edit icons for Windows XP, Vista, 7, 8 in 32-bit color depth with 8-bit alpha channel
Edit .png icons for web, Linux, Android, iOS, WP7
Paint images with pen, brush, airbrush, ellipse, rectangle, line, curve tools
Roll, shift and rotate images
Import and export .ico, .png, .xpm, .xbm, and .icpr formats
Sort images inside icons
Copy and paste images to other applications
Copy and paste color values from the clipboard
System requirements: Windows PC.


View full screenshot

If you have always wanted to design icons with your own unique blend of creativity; then, this is your chance to do so because now you can get access to a very powerful icon editor that can be used to make all sorts of web graphics from toolbar buttons to mouse cursors.


---
Stock Icon Sets
Business enterprise applications facilitated, number one designs for the fore
There is a lot that may not work right if you find yourself seeking to write a small business software package, as most web developers are generally constantly striving between always keeping it sober even while trying to keep it by being way too dull. This all while planning to fit in the actual complex features. Aero business symbols would be the key to the issue, read more for more info.



Tab Bar Icons with Source Vector Files
Tab Bar Icons For Mobile Apps
iOS Tab Bar Icon Set

Tab Bar iOS Icons
High Resolution App Tab Bar Icons for iPhone & iPad

3d Glossy Icons
Application Bar Icons for Windows Phone 7 Series
Blue Icons
Black Icons

Avia Software Icons
Professional Toolbar Icons
Ribbon Bar Icons
Glossy Toolbar Icons
3d Business Icons
Glossy Data Icons
Perfect Automation Icons
Android Icon Pack

Medical Tab Bar Icons for iPhone & iPad
Hotel App Tab Bar Icons for iPhone & iPad
App Bar Icons for Windows Phone and Windows 8
Medical Icons for WP7


In every software, every one of the end user views may be the graphical user interface, regardless how beautifully the logic functions and also whatever capabilities it may cover if he has to take a look at an ungainly distracting display he'd use only the application prior to the occasion he receives a more sensible choice. Precisely what several computer programmers are not able to understand is - the significance of simple and easy navigability, in addition to appealing aesthetic content, and even many an software package didn't gather the buzz that they otherwise might have for this reason ignorance.

When computer programmers do learn the value of a very good ui, these people sometimes do not have the actual skill or perhaps the intensive time frame required to painstakingly build it. The issue is sorted out partly by means of aero business designs- as it offers an individual along with the visuals you may want when attempting to build up a company centered app. By buying all these, you find a collection of 285 first class small business design in 2 colour schemes such as 256 shades and 32 bit. All of these images happen to be compatible with nearly all operating systems and can be applied with Windows, Mac pc OS, iOS and android centered applications. In addition, these kinds of illustrations or photos are available in five various sizes which vary from as small as sixteen x sixteen pixels to the largest to be 256 x 256 pixels. Everyone of these designs has been meticulously created by pros who have ascertained that ideal colours are right now there to suit the spectacular detailed pictography. The photographs are very descriptive in general nearly towards the point of getting humorous so are likely to hook the actual userís curiosity. More than this, when used sensibly plus positioned tactically close to the software package they might help to keep essentially the most intricate business logic clean about the GUI.

Some of the particularly innovative icons include that of an supervisor, a client, an icon pertaining to customer list, one particular regarding motor technician, also ecosystem, secret agent icons in addition to birthday parties have discovered a location between the arrangement. All of these come in accessory for better typical designs for instance that of investment, purchase, cart as well as bank, and also the idea that they have spent time in working out every detail is indeed incredibly apparent, a boss is a stub in dark colored suit while the spy is found along with a hat on, the best of all of all of these will have to be that of the business adversary who may have a bullís eye trained upon them. Today once we have many comparable applications flooding the marketplace, it really is that which is different amongst all of them that means something. Stand out, be very simple plus be neat.


---
Itís a Total Broad Arena of Symbols Over Here
The interface is an extremely critical section of an software package, as it is the first thing that anyone sees about it. By the point an individual can get accustomed to the exact business logic, he'd have formulated pre-conceptions concerning the software package in line with the user interface, which you'll subsequently be unable to fix regardless of how superior the back-end is actually. While using the Aero people symbols ought to support.

A good GUI is crucial to an apps success, and it is usually arduous for web programmers to make it suitable. Some individuals find yourself proceeding overboard considering the flashy items that totally covers the functionality within, although some end up leaving issues too scant and dull. Obtaining the suitable sense of balance is hard to realize as well as together with skill you need to have a certain level of thoughts to be able to picturize the software. Just about every modest area of your user-interface has to be very closely worked upon to stop the back end through getting lost in the clutter, whilst introducing a unique visual; this can be easier in theory. The problem is made simple using the assistance of Aero people designs, which go farther in comparison with everything I have come across even though wishing to build icon images for individuals.

These are especially good for anyone who is endeavoring to build applications that happen to be men and women oriented, or even that necessitate folks of numerous professions, nationalities and categories to generally be recognized from one another. You have on you amazingly descriptive and also brilliantly colored visuals for many fascinating symbols for men, women, babies, children, researchers, motor mechanic, tooth doctor, cardiologists as well as every different prof you can possibly imagine. Using all of these into a whole new levels we have symbols for any hitman, crook, barbarian, superman, clever monkey, a demon, an orc, a mummy, and also a bunny inside a suit thatís meant to be a playboy. All these types of images have been produced with a lot of effort which exhibits in the straightforward but unique way a majority of these pics have been manufactured.

A thing relating to specs, these pics are available in 5 various measurements and so are appropriate for applications on all the major os's including Windows, Mac OS, iOS and also Android. these can be found in 2 shade schemes including 256 tones as well as 32 bit colours, and also have a see-through background to choose it. All of this can be obtained to you to a very modest cost of $99.

A good app needs to be an amalgamation of numerous good aspects. Aero people designs may help you get the act together as much as the actual GUI is concerned and also makes sure straightforward move of control over the software package along with lending it an air of style that almost all soft wares discover challenging to realize. all these could be used to distinguish between societal users rapidly. Developing any GUI was never close to this much enjoyable, while using Pandoraís Box of symbols that cover anything from a client image to an Uncle Sam image.


View Icon Articles
ArtIcons Pro
is our pick. It enables professional and amateur artists to design and edit all kinds of icons. It supports ICO, BMP, PNG, GIF, ICPR, PSD, XPM, XBM, WBMP, CUR, ANI formats. German interface is available.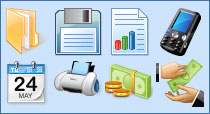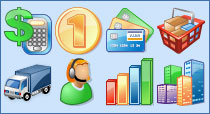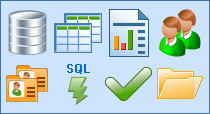 IconLover
allows you to design and edit all kinds of graphics required in the software development cycle, including icons, static and animated cursors and interface elements - all these kinds of graphics can now be designed in a single application.
ArtCursors
allows you to find, create, edit, import and export cursors and manage cursor libraries. It supports static and animated cursors.
Any to Icon
converts icons and cursors into BMP, JPG, PNG, GIF, ICO, CUR and other formats. This wizard can search icons and make images for use on Web pages.