Green Icon Editor
---
Green Icon Editor is an icon total solution to find, extract, edit and create toolbar, tab bar, status bar, menu, dialog, application icons for Android, iOS, Windows and websites.
With Green Icon Editor you can:
Create tab bar, menu, dialog PNG icons for Android
Create Metro-style and Aero-style icons
Manage icons, static and animated cursors, icon libraries, image lists
Create and edit smooth semi-transparent icons, static and animated cursors for Windows XP, 7, 8
Create and edit icons in standard and custom sizes, with color depth up to 32-bit True Color
Paint images with gradient and chess fill
Create multi-layer images
Modify images with a variety of effects: drop shadow, opacity, smooth, negative, grayscale, colorize, rotate, roll and mirror
Import and export ICO, ICNS, BMP, JPEG, ANI, CUR, GIF, PNG, TGA, WMF, WBMP, XPM, XBM and Adobe Photoshop PSD image formats
Work with Mac OS Leopard 512x512 pixels icons
Manage icon libraries for better and more efficient image storage
Extract icons from Windows executables, libraries and animated cursor files, ZIP and RAR archives
Download icons from the Internet
Search for icons in folders
Modify icons contained inside executables
Convert or apply effects to multiple icons at once
System requirements: Windows PC.

Trial limitations: 30-day trial period, nag screen.


View full screenshot

If you have always wanted to design icons with your own unique blend of creativity; then, this is your chance to do so because now you can get access to a very powerful icon editor that can be used to make all sorts of web graphics from toolbar buttons to mouse cursors.


---
Green Icon Editor Can Convert JPEG and Other Picture Files into Windows Icon Files
Icon Empire introduces a fantastic icon-processing program. Icon Processor will surely liven up your desktop and browsers. With easy to use tools, it allows you to download icons with speed and efficiency.

Icon Empire introduces a fantastic icon-processing program. Icon Processor will surely liven up your desktop and browsers. With easy to use tools, it allows you to download toolbar icons with speed and efficiency. It handles a variety of formats, including JPEG, TIF, ANI, and countless others. The icon design convert feature is very practical, and is created to maximize web functionality. From informative sites to business forms, you can effectively convert to icon and vice-versa. Each icon design consists of crisp, clear, and easy to visualize graphics. With first class abilities, it can safely convert family photos, web shots, or digital images to icons.

Icon Processor also enables file extraction from folders and sets. This is perfect for centralizing icon sets and image conversion. The icon convert tool facilitates many designs, sizes, and colors. From creative websites to flash animations, direct your web traffic with concise and clear images. You can convert icon sets that will be used on blogs and databases. From smooth photos to various styles, you can even apply effects to enhance your icons. The icon pack is available for download, with a free trial for first time users. This is great software, which allows you to search icons to meet all your needs. The program is also equipped with shadow and semi-transparent tools. Simply drag and drop your files into the processor for quick conversion.

The convert to icon feature lets you manage all your files. From icon modification to design, you can easily format your creations to achieve desired results. This includes size, color, file type, and folder modifications. With user-friendly instructions, you will convert your favorite images to icons in no time. The toolbar icons utilize a step-by-step approach to ensure a favorable outcome. From jpg to icon, instantly search icons for e-mail attachment and embedded file links. To streamline the process, Icon Processor includes a compatible mini-browser. This is great for icon previews during development. Once you have chosen a size, simply follow the instructions to convert the icon file.

The icon file can then be enhanced with special filters and tools. You can add a background or transparent color from the palette, or integrate soft shadows. No matter your preference, you website will sparkle with these amazing graphics. From symbols and objects to prompts and icons, add a touch of class to and web endeavor. The command line interface, allows you to utilize functions in a timely manner. This results in quick conversion and instant icon placement. The jpg to icon conversion tool is a favorite mode of icon conversion. Since jpegs are widely used, they are perfect for high-end visuals with simple formats.

Icon Empire is an industry leader in icon creation. From fast conversion modules to an assortment of styles, download icons that have serviced a broad range of websites. Whether you need business icons or generic symbols, the Icon Processor simply has it all. They are fully compatible with several Windows operating systems. You can purchase icon packs at an amazing price. With so many conversion options, you will always be able to download icons that are visually stunning. This is truly an innovative way to establish an attractive and captivating website.


---
Itís a Total Broad Arena of Symbols Over Here
The interface is an extremely critical section of an software package, as it is the first thing that anyone sees about it. By the point an individual can get accustomed to the exact business logic, he'd have formulated pre-conceptions concerning the software package in line with the user interface, which you'll subsequently be unable to fix regardless of how superior the back-end is actually. While using the Aero people symbols ought to support.

A good GUI is crucial to an apps success, and it is usually arduous for web programmers to make it suitable. Some individuals find yourself proceeding overboard considering the flashy items that totally covers the functionality within, although some end up leaving issues too scant and dull. Obtaining the suitable sense of balance is hard to realize as well as together with skill you need to have a certain level of thoughts to be able to picturize the software. Just about every modest area of your user-interface has to be very closely worked upon to stop the back end through getting lost in the clutter, whilst introducing a unique visual; this can be easier in theory. The problem is made simple using the assistance of Aero people designs, which go farther in comparison with everything I have come across even though wishing to build icon images for individuals.

These are especially good for anyone who is endeavoring to build applications that happen to be men and women oriented, or even that necessitate folks of numerous professions, nationalities and categories to generally be recognized from one another. You have on you amazingly descriptive and also brilliantly colored visuals for many fascinating symbols for men, women, babies, children, researchers, motor mechanic, tooth doctor, cardiologists as well as every different prof you can possibly imagine. Using all of these into a whole new levels we have symbols for any hitman, crook, barbarian, superman, clever monkey, a demon, an orc, a mummy, and also a bunny inside a suit thatís meant to be a playboy. All these types of images have been produced with a lot of effort which exhibits in the straightforward but unique way a majority of these pics have been manufactured.

A thing relating to specs, these pics are available in 5 various measurements and so are appropriate for applications on all the major os's including Windows, Mac OS, iOS and also Android. these can be found in 2 shade schemes including 256 tones as well as 32 bit colours, and also have a see-through background to choose it. All of this can be obtained to you to a very modest cost of $99.

A good app needs to be an amalgamation of numerous good aspects. Aero people designs may help you get the act together as much as the actual GUI is concerned and also makes sure straightforward move of control over the software package along with lending it an air of style that almost all soft wares discover challenging to realize. all these could be used to distinguish between societal users rapidly. Developing any GUI was never close to this much enjoyable, while using Pandoraís Box of symbols that cover anything from a client image to an Uncle Sam image.


View Icon Articles
ArtIcons Pro
is our pick. It enables professional and amateur artists to design and edit all kinds of icons. It supports ICO, BMP, PNG, GIF, ICPR, PSD, XPM, XBM, WBMP, CUR, ANI formats. German interface is available.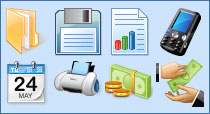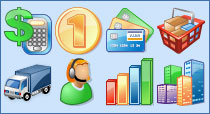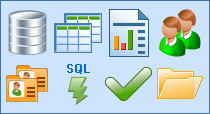 IconLover
allows you to design and edit all kinds of graphics required in the software development cycle, including icons, static and animated cursors and interface elements - all these kinds of graphics can now be designed in a single application.
ArtCursors
allows you to find, create, edit, import and export cursors and manage cursor libraries. It supports static and animated cursors.
Any to Icon
converts icons and cursors into BMP, JPG, PNG, GIF, ICO, CUR and other formats. This wizard can search icons and make images for use on Web pages.